Audit Retention Plan
Beginning in October, 2016, the UI will begin archiving and purging degree audits that have been requested by students, advisors, and staff.
HawkID audits
The audits requested by campus users that will be most affected are what are 'HawkID' audits, or audits associated with the HawkID of the requester (student, advisor, etc.). These can be Program of Study (POS; majors, minors, certificates) or What if? audits.

All HawkID audits will be purged with the following exceptions:
Audits requested during the current session (Fall 2016)
Audits requested during the 4 preceding sessions

Summer 2016
Spring 2016
Winter 2015
Fall 2015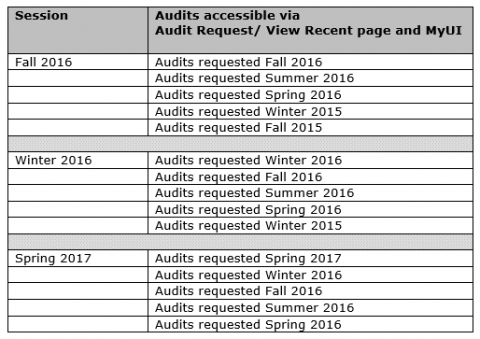 End of Session (EOS) audits
End of session (EOS) audits are run administratively after grades are added to students' records each session and will be archived. Even though these audits are run administratively and not requested by a HawkID user, they will be accessible to students, advisors, and staff.
Students, advisors, and staff may continue to save previously requested audits in their PDF formats to personal computers, laptops, or other devices.
To review the audit retention plan presentation from the October Student Academic Services Users Group meeting, click 
audit_retention_plan.