CSV File Formatting for Final Grades Upload
Include two of the following required column headers:
"student"

"grade"
The following column headers are optional:
"status"

"date"
Fill in appropriate data

"student" (data required) – Hawk ID or UniversityID

"grade" (data required) – The final grade value (e.g. "A+")

"status" (data optional) – "COMPLETED_COURSE", "NEVER_ATTENDED", "STOPPED_ATTENDING"

"date" (data optional) – Date student last attended in the following format mm/dd/yyyy
NOTE: when AUU, F, N, or U is assigned and columns, "status" and "date" have blank values - the instructor must enter the information in MAUI. Instructors cannot submit final grades without status information for students with non-passing grades. If the status is "Stopped Attending" the last date of attendance is required.
Sample File View

Example 1: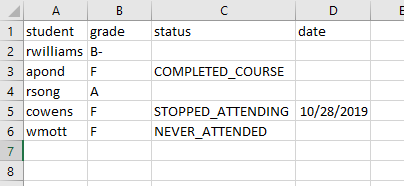 When using UniversityID the csv file must be formatted to include lead zeros. To change the "student" column to 8 digits in length:
Select the entire column by right-clicking on the column letter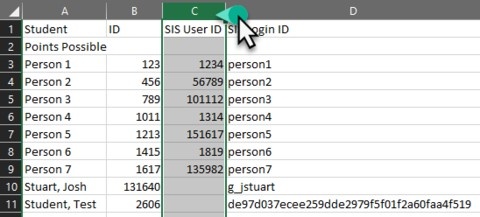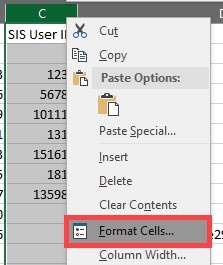 In the "Format Cells" window:
Choose "Custom"

Click the "0"

In the "Type" field enter 8 zeros – "00000000"

Click "OK"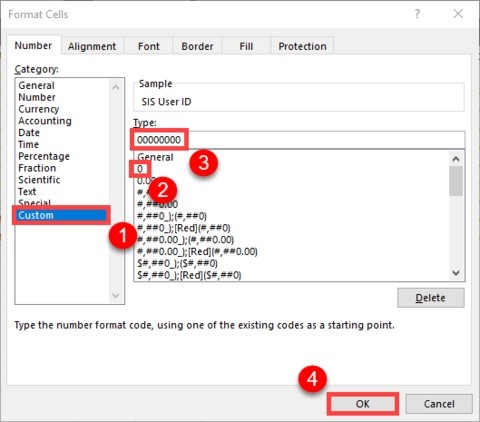 The cells should now have 8 digit UniversityIDs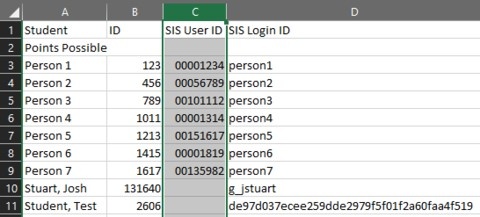 Uploading Your CSV File
Log into MAUI.
Click on "My Courses".
Click on the "Edit" link under the Final List column.
Click "Upload Final Grades"
Download sample file
Upload saved .csv file
Click "Show Sample Data"

If the grade data looks correct to you, click "Validate Data". MAUI will test the data in the file to make sure it's in the right format.

If non-passing grades are included in the file without "status" and "date" values the validation will show blank fields 
Click "Import File" to import the grades from the csv file into MAUI.
Enter "Status" and "Date" information if required 

MAUI will show a message about the grades being successfully processed. Click either "Save" and "Complete Course Later" or "Submit Course to DEO".
NOTE: grades cannot be processed until they have been submitted to the DEO for approval. Meaning, you must click Submit Course to DEO some point before the grade submission deadline.